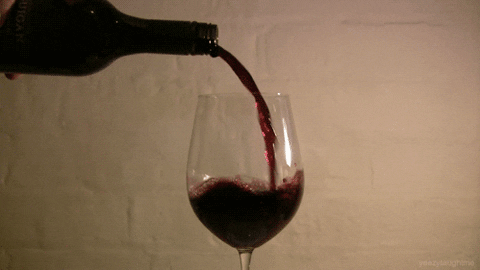 You might think I'm referring to wine but no, these adjectives describe my experience learning to "yoga" these past few months. Other descriptors that apply well are "earthy", "soft", "spicy". I think after I finish this wrap up post of my learning project, I'll head over to our little liquor store and find a wine that fulfills those qualities!
Funny aside – Our liquor store here in Haines Junction is in the same building as our motor vehicles office. Yup, drinking and driving all mashed together in one place! you walk in the same doors and on one side of the room are all the appropriate "Drive Responsibly!" posters and with a slight turn of the head, you see the latest "Drink Responsibly!" Small towns can be such odd little places!
Until I find that perfect wine, I'd like to propose a toast to yoga and all that it's taught me so far, to me for diving in and going for it, and to you, my readers, (of course, I couldn't leave you out!) for being a part of the journey with me.
To Yoga
Thank you yoga, for being that act of physicality that didn't whisper "you can't do this, you're too fat, out of shape, and undisciplined". I've appreciated the acceptance. And even better, the increased self-acceptance you have facilitated in me.  A special mention, of course, to Curvy Yoga, who whispered all kinds of beautiful, affirming and soul repairing words to me.
Thank you yoga, for gently nudging me when I'm avoiding my physical body. Thank you for being the matchmaker, introducing me to my body in new ways. We've begun (my body and I) a fledgling relationship that I feel pretty sure will grow into a mature, sensitive and caring bond.
Thank you yoga, for reminding me as I've journeyed along, what learning feels like. And why scaffolding lessons is important and that sometimes learning uncovers our insecurities and that we need to have gobs of empathy for ourselves and others. And thank you for reteaching me the idea that we are body, soul and spirit and that learning, really great learning, has an impact in all those areas!
To Me
Thank you. Thank you for picking a learning project that took you out of your comfort zone; there were easier choices but you embraced something that pushed you. I'm really proud of how you didn't just "get it over with" but also took the time to be reflective about the impact it was having on you and you made some great connections. Way to go!
To You
To you, who've been a part of my yoga adventure, thank you!!! So many delicious words came my way, whether here in the comments, or on my Facebook. Such yummy words of acceptance that cheered me on! Each of you modelled a quality so fundamentally necessary in the world of learning. Encouragement. We all need it, everyone of us. And you gave it so freely. Thank you!
So raise your glass with me, (we'll pretend we have wine in it for now)…
TO YOGA, TO ME and TO YOU. Cheers!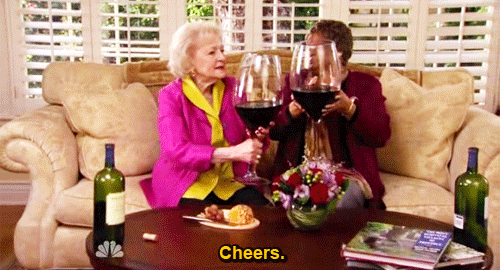 (seriously tho', doesn't just seeing Betty White, anywhere, doing anything, just bring a smile to your face!?!?) via GYPHY
As always,
Keep learning,
Dianna