So what on earth do grief, hope and the internet have in common? Carol Todd. That's what. Or rather who.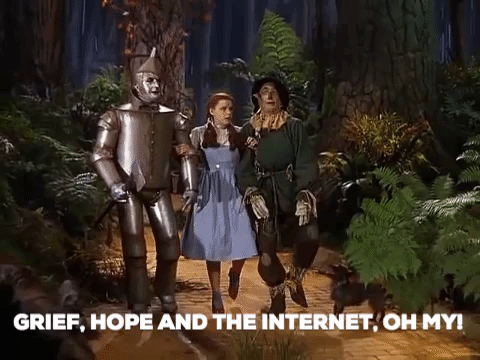 Carol, mom of Amanda Todd, visited us in our class the other night, and what a gift she was to each of us. It was one of those times where you are aware enough of a person's story that your soul is hushed when she speaks because she's journeyed through "the dark night of the soul" and come through the other side, changed forever and a testament to the human spirit. She is this lovely woman who although she has experienced something most of us will never have to, is so down to earth, approachable, and humble, you just know you would have the most wonderful time visiting over a cup of coffee with her in your favourite little coffee shop! If you ever get a chance to hear her speak – take it. Her spirit is infectious.
I was struck on a number of levels from our time with Carol.
First, like I mentioned, the resiliency of the human spirit is breath-taking. Each of us is afforded the opportunity to meet profound grief in our lives, almost without exception. And without fail, it provides us all with the opportunity for tremendous growth and change in who we become moving forward. We can become full of bitterness or grace, destruction or hope. We make life changing choices along this path of grief. It's devastatingly powerful, this journey. For myself? Stories like Carol's inspire me to continue to grow and be refined by my own story and be a conduit of hope.
Second, suffering is not reserved for us adults. Coming through our classrooms, at every age level, are kids who are facing difficult, heart wrenching realities. As educators we have such a powerful place is these young peoples lives! Will we be sensitive to our students? Or will the pressures of getting the job of "teaching" done, blind us to their stories outside of class? Will we be compassionate individuals who come alongside and fan the flame of resilience in our students and be depositories of hope for them to make withdrawals from? Just as Carol came alongside us and infected us with her buoyancy, I want to be that kind of person for my students, my colleagues, my family, and my friends.
Last and certainly not least, I was once again struck by the awesome impact of the  internet. When the first car was ever built over a hundred years ago, I'm sure they never imagined all the ways it has impacted our world! Our world completely adapted to this technology! And oh, it's good! I just returned from a lovely day trip to Skagway, Alaska where I got to smell the ocean air, watch a sea otter play, climb up to a frozen waterfall and eat halibut at a local restaurant!
Photo Credit: Edward Mitchell Flickr via Compfight cc
I live in a little village an hour and a half from my mom so I get to visit her regularly. All because someone long ago created the automobile. It's amazing. But it hasn't been without it's downside. Accidents, pollution, drunk drivers. Vehicles have been just that. Vehicles of great things and horrible things.
The internet is no different. I can now face time with family in other provinces. I can learn impossible math concepts from a professor in Mississippi!  It's an amazing gift, this internet. But like the auto, it can also be a vehicle of destruction. People have had their identities stolen and some have had their life savings plundered. In Amanda Todd's case, it became a conduit of unbearable pain and suffering that led to her death by suicide. It's awful. So, just as driving is something we all require instruction in before we get behind the wheel alone, using the internet is a powerful vehicle that requires us all to be very mindful and deliberate about how we use it and how we instruct young people to use it. It's people like Carol, who we can lean into, where we gain the wisdom and clarity in how to accomplish this. Our ability to teach our students safe internet practices is paramount in this time of opportunity that the internet has brought!
Moving forward for me? Keep learning. About resilience, about internet wisdom, about imparting hope, each and everyday.
And Carol? Thank you for sharing your story and wisdom. You are a gift. XOXO
Keep learning,
Dianna