What a week. All the regular busy stuff that makes up my life with extra helpings of horrible grief on top. But, I'll get into that later…
I attended an EdChat! For those of you who are asking, "What the heck is an EdChat!?!", it's a twitter conversation around some topic in education. I sat in on #saskedchat last week and in spite of my initial nervousness, I really enjoyed it and completely see the value of participating as a way to continue develop professionally.
What a friendly and welcoming group they were! The moderator was great and you could sense the camaraderie among the participants.  Trying to keep up with all the comments and formulate my own thoughts to contribute to the conversation was somewhat impossible as a first timer, but I can see how, with practice, it could be a fun way to network and glean and share ideas.
It's interesting to me that many of the provinces have their version of #saskedchat (I'd like to participate in #bcedchat next) but it doesn't look like we have one here in the Yukon. I joked around with my #EDTC300 class and prof about hosting one, and as intimidating as it is, I think I might do it before the end of my course simply because there's so many amazing educators here that I'd love to connect with in a new way. I'll keep you posted!
Okay, as the title of this post alludes to, this is a mash up post.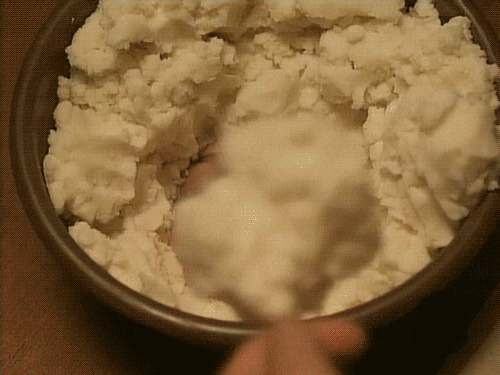 So, onto my learning project report. So far? I suck. I'm not getting 'r done. I'm not yogaing to my full potential. Shoot, I'm not even yogaing to my half-assed potential! I have a wagon full of excuses but what I want to focus on are solutions, therefore, I need to make a better plan. Next post? My new plan.
Mash up item #3. Grief. Puffy face, crying your heart out, snot everywhere, grief. I've had great gobs of loss in my life over the last two months and I'm the equivalent of a wrung out, old dish rag. I'd throw in the towel, but I wouldn't know where to throw it. Besides, I need it to wipe up all the snot… And why do I feel the need to share this? Because it's real. It's my truth. And newsy, fun posts are great in a blog, but for me? The blogs I most connect with are the ones that explore the good AND the bad, the fun AND the sad. What works, what doesn't. The triumphs and the dismal failures.
Because at the end of the day, whether I'm talking about my life in general or as an educator, grief is unavoidable and I have a choice about how I walk through it. And I choose transparency. I choose to grieve in such a way that models that it's a normal part of life. That grieving doesn't equal weakness, it equals strength. I choose to honour the grief process and what I will learn through it, as painful as it is.
And this week, as our little village reels with grief with the loss of one of our dear young men in a dreadful accident, I have been struck by the experience of walking through a season of grief in the midst of my high school students. Don't get me wrong, we laugh long and hard everyday, but occasionally, a student will see a tear in my eye. And hand me a kleenex. Or reach out and hug me. When I see these young people ooze empathy in the midst of their own not-so-easy lives (they are teens after all!) something in me busts open and hope floods in. Hope for today and hope for the future. The "hot-air balloon" kind of hope that lifts me up and convinces me that the hard times and the ache of loss won't always fill my view. I'm so grateful for my students and all they teach me.
So there it is. A mash up. Hug someone today. Impart hope.
Keep learning,
Dianna