So I'm taking this really great online course and am becoming wise in the ways of technology in education. I get to learn
Twitter
and learn to use
Google+
, develop a blog/e-portfolio and LEARN A NEW SKILL! I need to spend 30 – 40 hours over the span of this course to learn something new, predominately from online sources. Super idea!
In my quest to pursue my education, I am very aware that
as I mentioned
, I wear many hats and juggle many balls in my life. One of the hats I forget to wear and balls I drop the most is the one labelled "Dianna – the person who needs to physically take care of her body" (awkward label, I know). Soooo…. I'm going to learn yoga!
And as much as I'd like to look like the serene, fit, lithe individual above, I will look more like this…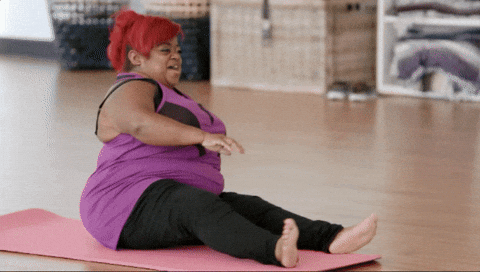 I love this woman with all my heart and we've never met!
I, too, am a big beautiful woman who is (thank God!) well over being crazily self-conscious. I can laugh ridiculously hard at myself so learning yoga and sharing it with my new learning community, should be a scream!